This is part 4 of a 9-part series on Stacey Nemours  fantastic online flexibility course package for dancers.
Note: If you are interested in trying Stacey's online flexibility system – I highly recommend it!  – use code 'khalidadance' for 10% off all courses, course bundles and stretching props at flexibilitymakeover.com
Contents
Stacey's Dance! Flexibility Makeover Power Pack contains several courses.
I will be working with/posting about them in the following order:
Note: use code 'khalidadance' for 10% off everything at flexibilitymakeover.com
Enjoy!
Course 4 – The Cheerleaders complete Flexibility System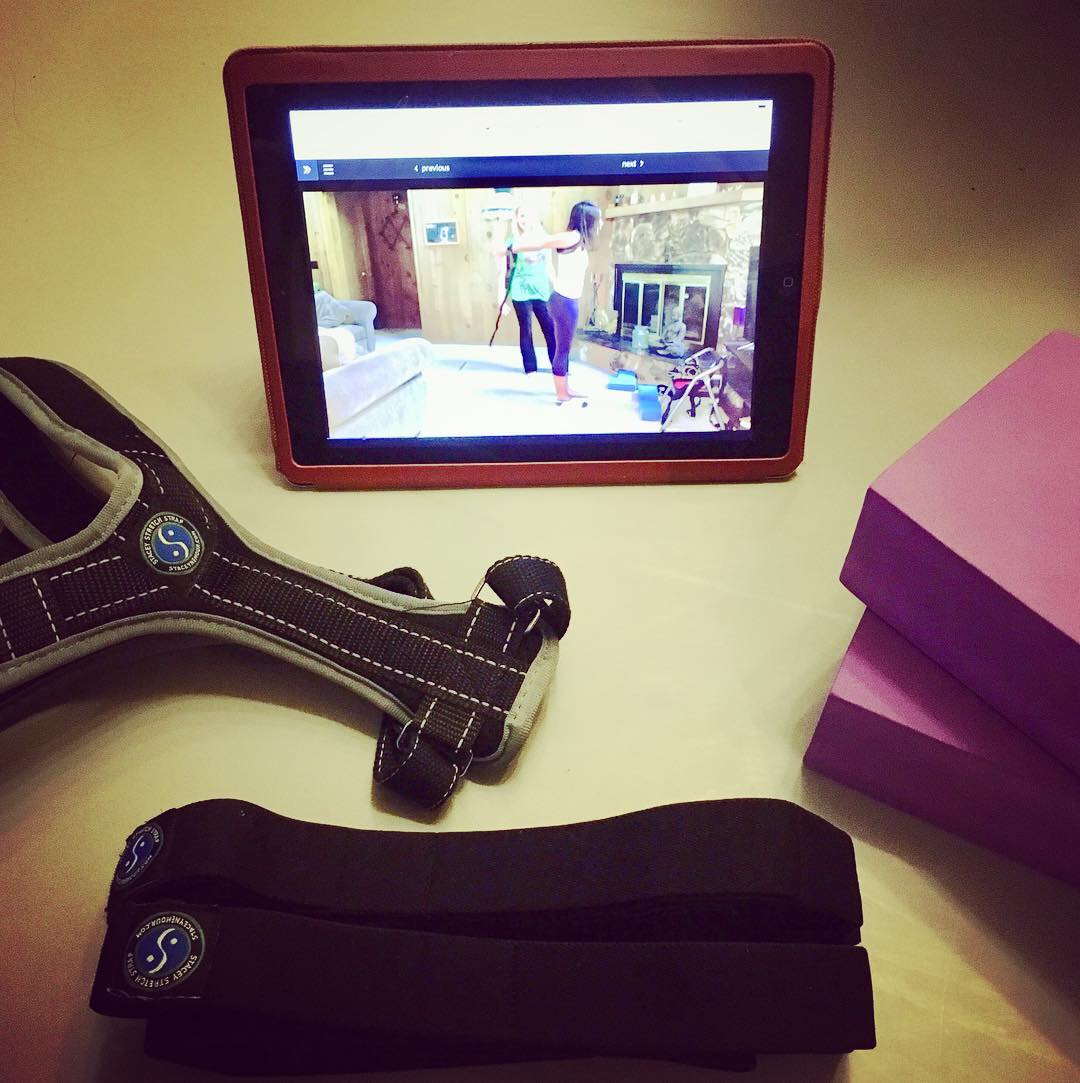 Course duration:
Module 1: (introduction – Bella and Stacey discuss the issues Bella struggles with – and 'before' check) 4 minutes
Module 2: 1 hour 10 minutes (the 12 final minutes are the flexibility re-tests and alignment tweaks of poses)
Level:
All levels/intermediate to advanced
Props:
A couple of yoga blocks (I use 2 – optionally you can use 4 for the downward dog exercise)
Some clear wall space
Optional (but recommended): a Stacey stretching Strap (or 2 if you want to intensify the exercises)
Optional: Stacey's Posture Support Strap (which you can wear during any of the courses for additional upper body support)
Course type:
Recorded one-on-one coaching session  at Stacey's home.
Featured students:
Bella Blum (cheerleader)
What I like about it:
I like that this course focuses on very basic releases for lower as well as upper body, but also includes much deeper work on the feet, legs, upper back and hips.
It also features slightly different variations for some of the exercises I found in the other videos of the Dance! pack, so it helps me to finetune and personalise my flexibility practise, even while I'm working with the videos.
It's great fun to see (and hear) Stacey teaching this session 'live' in her own home, and I love Bella's positive and open attitude, even as she is trying new-to-her exercises and movement tweaks.
It gives this video a very warm and familiar feel.
What it does for me:
I noticed that working with this video (even after just trying it a few times!) helped me open up my upper body and shoulders in a more relaxed manner, which is great for sword work (Haidong Gumdo) and dancing with props (like Silk Fan Veils)
Effects after a few sessions:
I noticed that the deep hip stretches were very 'healing' to me in a way – the effect was.. more of an absence than an addition this time.
An absence of soreness, more specifically.
Even after a high-energy and movement-filled week where I:
taught 12 hours of bellydance
traveled to Denmark and back, carrying a suitcase
a turning-kick-practise-heavy Taekwondo class this Monday
a day of grocery schlepping, plus more at-hone kicking practise
a one-hour pointe class and 'regular' classical ballet yesterday
I was able to work with this video just 3 times (and for one of these sessions I only had time for doing the first 30 minutes), yet during (and after!) this week/weekend I am still absolutely soreness-free.
Amazing. And a bit unexpected!
What I did see coming though, is that my cambrès as well as arabesques for ballet felt more 'deep' in ballet yesterday – and I could notice where I had imbalances in core strength, probably because of the deeper work with the legs, hips and upper body.
I will report back in a few days if there are any additions!
My favourite exercise:
The 'trick with the straps' shown below, for opening the upper body.  Pure Genius.
And next to that, the deeper variations of the seated hip stretch (one of which was also featured in last week's flexibility post) felt absolutely amazing.
PS: You can see Bella wearing Stacey's Posture Support Strap in this video!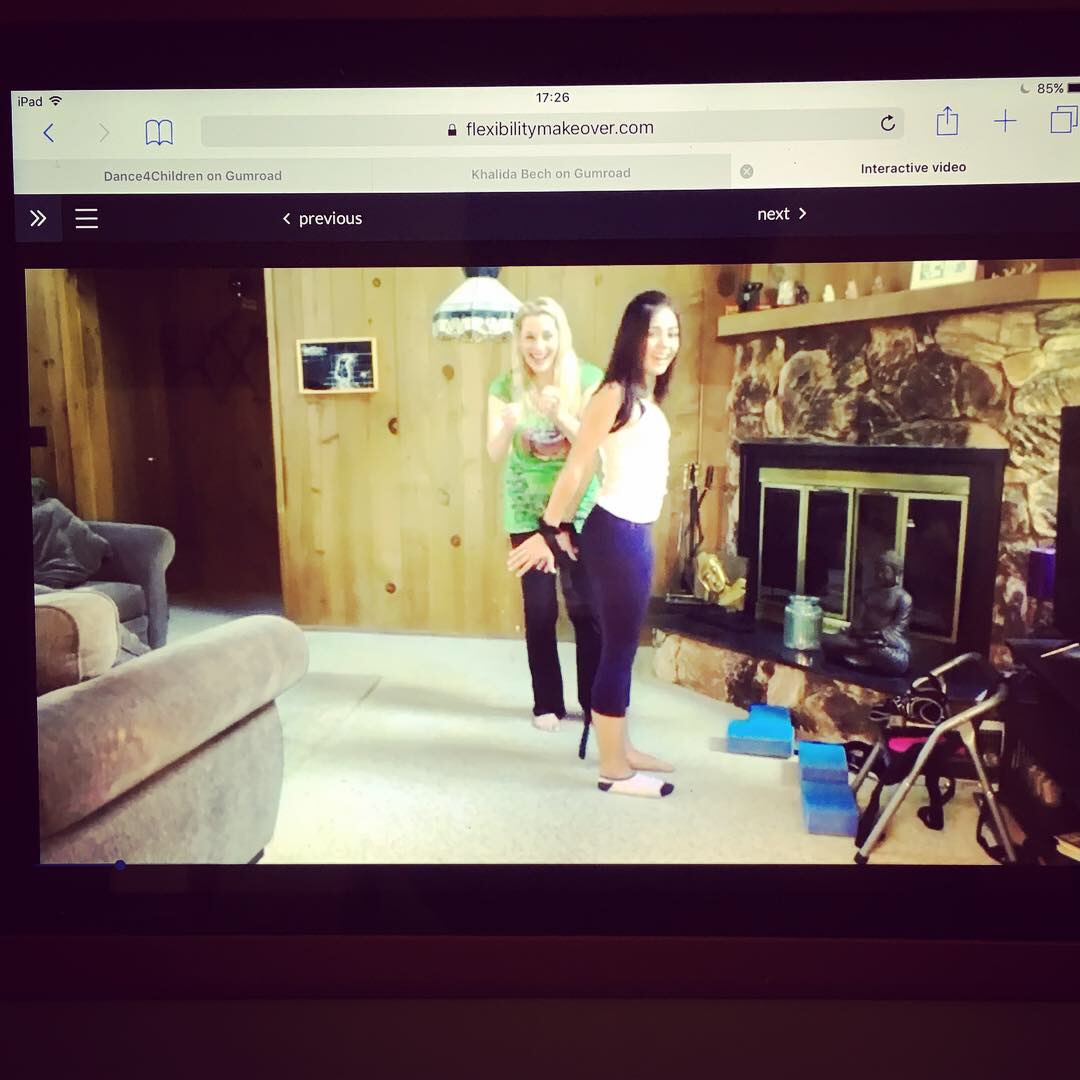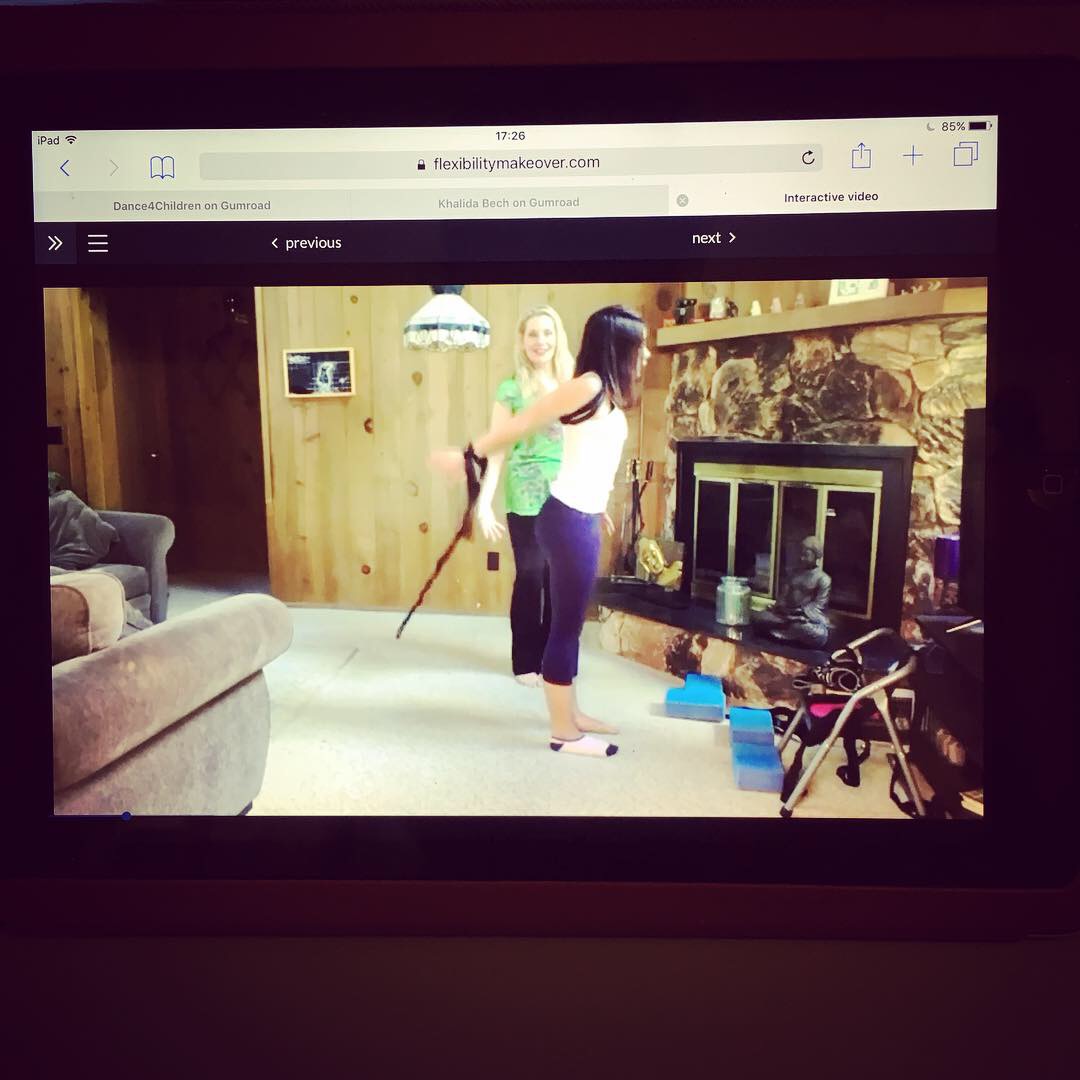 If you have any questions about the Cheerleaders complete Flexibility System course, or about the Dance! Flexibility Makeover pack in general, feel free to contact me via the comments below.
If you have this course, too: Let me know your experiences!