While I feel digital art really is it's own kind of magic..
And even though I agree that things are just.. 'things'..
I still love the idea of 'physicalizing' art.
Next to that, whenever a reason to do something feels 'true' to me, it can move me to action with the action itself being it's reward.
Once I get going on something like that.. it's hard to stop.
The photo shoot where this picture was taken was something like this.
The BOOST courses I am working on are something like this.
When I feel can be who I am, develop and/or grow and learn, do something that feels 'right' to me, and at the same contribute something positive.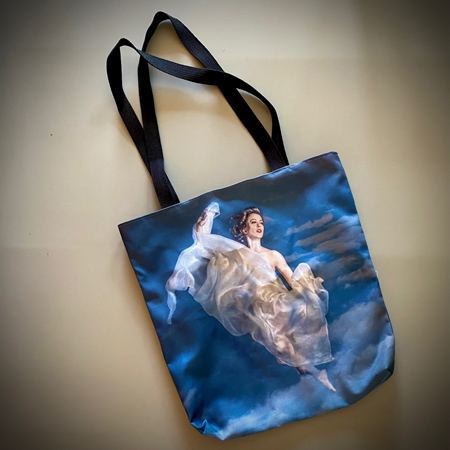 This is why I chose exactly this design.
The picture is from a collaboration (with die Elster), one that symbolizes to me that it's ok to both dream and do.
I'm also using it as a kind of action-motivator for the upcoming BOOST 2021 course enrollments.
The fastest enrollee (at khalidadance.com/boost on 12.12. at 12:12 CET!) will get to choose one as a prize.
My reasons for choosing these items:
They were made (will be) in collaboration, different steps (will) have been taken by different people to let them 'become'
Their purchase (by me, or by others) will support the artist/photographer Die Elster
They are both containers.. things can be put in them, transported, and used to help create more art
They both represent creativity, learning, freedom
The one who receives it will do so because of having taken a positive (I hope) for-them action
It will be the result of a choice. And it's good to make choices, of any kind.
It can serve as a physical reminder of a digital-yet-still-real connection.
They are both blue. Have clouds. And light. And beauty. Good mojo/energy.
At the same time, they are practical And thus they will be, hopefully, used.
Deep, huh?
I didn't think of all this when I came to the idea. But I like it nonetheless.
That being said, I am curious already to know which will be chosen.
A mug? Or a bag?
And who will it travel to?
To you? 🙂
Let me know if you happen to be thinking of joining my #BOOST2021 classes this January and why!
And, if you were the first to enroll.. what would you choose?
I'd be happy to welcome you.