Below you'll find my favorite tips to prepare yourself mentally and physically for a studio photo shoot.
For 4,5 hours of Tips & Tricks on my Photo Shhoot Preparations and Posing, check out my Posing 4 Pictures Online Workshop Package here!
1. Early Preparations
Things you can do in the week(s) before the shoot:
Mentally
Start thinking about your 'vision' – which costumes would you like to wear? what is the 'atmosphere' you would like to create? what purposes would you like to use your pictures for?
Meditate. Even if it is just one or two relaxation/breathing sessions, anything that helps you settle down a bit and 'feel' will help you be more comfortable during the shoot. It can also trigger some moments of unexpected inspiration!
Research for inspiration – check out the earlier work of the photographer you'll be working with, browse the internet for pictures and see which ones resonate with you – try to figure out what it is that you like about the ones that 'click' – this will give you an idea of your own 'tastes'.
Bonus tip: Dare to venture outside of your own dance style 'box' for this – see how other dance (movement) arts are photographed, it might make for surprising results!
Physically
Start a mini workout program. For tips and ideas, check out the 'strength' category of this blog (or join me at Fit with Khalida).
It doesn't have to be much, but moving in slightly different ways than you are used to will help prepare you on several levels.
Doing simple weight/body weight/calisthenics strength exercises a few times a week will help your body get that extra bit of definition (it REALLY  makes a difference!) PLUS it helps to improve your body-mind connection, which in turn is enormously helpful for picture posing as well as dance.
Hydrate. Use the time before a shoot to get used to hydrating yourself properly. It only takes a few days, and it will give you more energy, more mental fitness, and you will look and feel(!) literally refreshed.
Sleep. This one might seem trivial, but it absolutely is not. It will help you process all of the preparations, and you will definitely thank yourself on the day of the shoot. Use naps if needed.
Invest in a bit of flexibility work.
It can be as simple as taking a few deep breaths, doing a bit of gentle stretching before and after practice/teaching sessions, or taking a moment to stretch out in the mornings and/or before you go to bed. Your pictures will look more relaxed if your body is in balance.
Try out your hairdo and makeup and see how it goes with the outfit(s) you have in mind (even if you are working with a MUA)
Research the 'looks' you'd like to experiment with, for instance go to Instagram/YouTube/FB/Blogs for inspiration, and see what you will need to bring with you for it to work.
Work on your feet. Strong and mobile ankles and feet make a huge difference in pictures. It's all in the details!
Same for beautiful posture, hands and arms. If you focus on the fundamentals, it will show in all of the poses you do.
Practice dancing slowly – this can work magic. Dancing in slow motion at home for a few sessions will help you feel much more comfortable during the shoot, as it improves again your body awareness.
Next to that, if you apply it during the shoot, it will give you and the photographer more time to capture your favorite dance movements.
Bonus tip: for dancing slowly, and/or working on beautiful hands & arms, check out my free youtube tutorials on releasing your upper limbs
Blog readers: Check out my Posing for Pictures online recordings package for 4,5(!) hours of practical tips for photo shoot preparations and rocking your dance poses!
Picture by Philippe Rikir, Costume by Nathalie Becker
2. The Day(s) before a Shoot
Things you can do in the final day(s) before the actual shoot:
Mentally
Make a list of what to bring, and one of what to do on the shoot day. It will give you peace of mind.
Also double check the address and contact data, as well as the time you'll need to be at the shooting location.
Start packing your things early enough, this will give you a chance to think of more things you might need. On-time packing will decrease the risk of forgetting to bring any items you had wanted to use.
Physically
Iron your props (veils, fan veils, anything that has natural fibers and can handle the heat) and try out which ones would work well for the costumes you plan to wear. When in doubt, bring a few more props than you think you might need – inspiration might strike in the moment!
Try on your costumes and do any adjustments/fixes that need to happen. Give yourself a bit of time for this. The better your outfits fit, the more confident you will feel during the shoot.
Try out the jewelry/accessories you'd like to wear for each costume. A little touch of accessory can add a lot.
Now that you have the costumes/accessories on.. Get yourself in front of a mirror, and experiment with some poses! This is arguably the most important part of photo shoot preparations. I tend to procrastinate on it (what if I don't feel inspired? what if I don't like what I see?) as it can feel a bit awkward at first to 'pose' alone if you are not used to it, but it is the easiest and most direct way to get ideas of what works well on YOU.
Give yourself the chance to try out posing tweaks, angles and ideas in peace, without any time constraints, and without any judgment. The more you play with different poses, the more inspiration will follow. Try this without props, with props and using your costume/skirt/body lines/hair to find interesting effects and compositions. This is where your 'inspiration research' will come in handy from the earlier preparations.
Find a few favorite poses/concepts for each costume, then sleep on it. Keep in mind that these poses might not even be the ones that give you the pictures that you like most (sometimes, but not always!) They are meant to give you an 'anchor' to get started, and give you a bit of confidence for each 'set'.
Pack a snack! And some water, just in case.
Hydrate. Again.
Do some planks or push ups/abdominal exercises (follow the links for tutorials on those!)
Stretch a bit.
Get yourself to bed on time.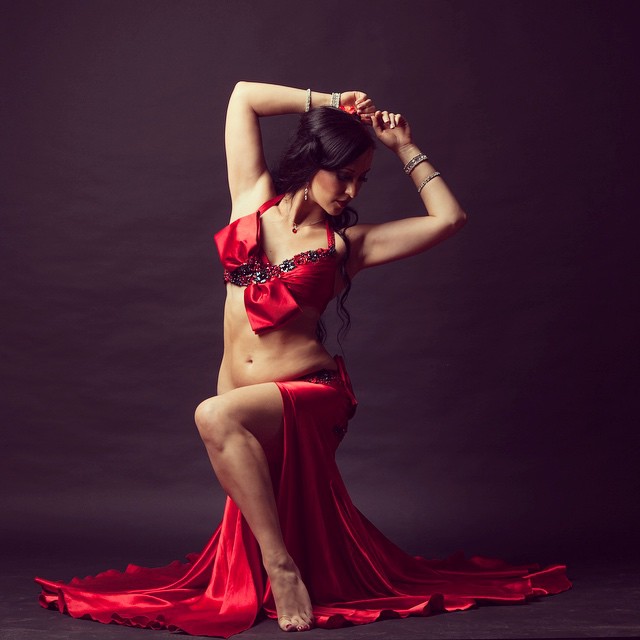 3. On the Shoot Day – Practicalities
Mentally
Ask your MUA/Make Up Artist (if there is one, and if she/he has time) about makeup/styling tips. They might just have a wealth of knowledge to share.
Be observant. If you have the stamina, you can check out the other dancers (if it is a multi-person shoot) and/or help them out if needed.
Stay open. Being well prepared means you are free to enjoy the moment and more open for experimenting on the day.
Check in with the photographer to get a feel for what they think works well, too. They can give you a (literally) different view on the shoot.
Make mental notes for future shoots. You will learn a lot on a day like this.
Remember that doing photo shoots, like dancing – or anything in life – is a skill that can be practiced. You will get more comfortable with every experience.
Be sure to take note of things that do not go entirely as you have hoped, things that worked out more or less as expected, and things that went unexpectedly well.
Most important of all: Enjoy the ride! A photo shoot can be deeply enriching in many ways.
Physically
The fun part 🙂 Things to experiment with:
Take the time to warm up your body (and mind) properly before it is your turn. This can be a dance warm up or any warm up of your choice. You will feel more 'free' to move and more connected to the moment.
Start with the poses you practiced on the day before, and gently tweak them before moving on.
Be sure to change your pose 'one thing at a time' (eg. different head position, eye focus, facial expression, hand position, arm position, leg/foot position, angle) before changing your 'main pose'. This will give the photographer the time to catch the tweaks, and you will have the opportunity to choose your favorite combination later. If you change your poses too much at once, you might miss some great picture opportunities.
If there is a mirror, use that to your advantage for posing tweaks. Bonus tip: Remember to put your gaze back wherever you wanted it to be for the picture if you use a mirror for pose tweaks – I know this from experience..
Play with contrast and angles. High/low, out/in; rotations; movement/stillness etc..
Play with looking into/away from the camera and the lights.
Make sure you have '2 arms' in your pictures (it usually looks a bit odd if you hide one in a pose) and experiment with tilting your upper body slightly towards the camera in diagonal/profile poses.
Every now and then, shake out your limbs in between shots!
Extend your body lines, and use tension to play with in your core while relaxing your face and fingertips/wrists.
Breathe. Sometimes a breath can completely change a picture.
Try out dancing super slowly. More slow.
When using props: try to make your visuals a bit '3 D' by using the diagonal towards the camera.
Focus on feeling your movements.
And last but not least, my favorite: If you use your skirt/costume/hair or tucked-in veil(s) as a prop -> try a kick/flip/throw-and-pose!
And you?
Do you have a photo shoot coming up? What will you do? What are your favorite photo shoot tips?
Share them in the comments below!
PS: Blog readers: Check out my Posing for Pictures online recordings package for 4,5(!) hours of practical tips for photo shoot preparations and rocking your dance poses!
Have a great day, and let me know how your next shoot goes!
x K.