PUMPKIN SOUP – Yess, it's that time again.
I wanted to re-share this recipe, but I just realized I haven't actually posted it here yet.
Healthy, hearty, warming and tasty. And best of all, it's super easy to make.
You can adjust the amounts depending on the pumpkin size, or simply use whatever you have at home, it will still work.
What you'll need:
(Serves 4 Peoples)
INGREDIENTS
a few tablespoons of olive oil
1 pumpkin  – any kind you like, I use a bio Hokkaido of about 1KG (that's what they happen to have at Aldi)
a bunch of onions and/or shallots (I used 2 red onions and 8 shallots)
garlic (2-4 cloves, or more if you like it strong)
red chili peppers (2-4, or more if you like it extra spicy 🌶🌶🌶🌶)
fresh ginger (4 cm)
a few stalks of lemongrass (fresh or dried)
veggie broth (1 Litre)
coconut milk (800ml)
SEASONING (optional, but yummy):
a bit of cilantro (or koriander)
a handful of roasted pumpkin seeds
pinch of salt
PREPS:
peel, deseed & dice your pumpkin (& weigh it)
peek & roughly chop onions, shallots, garlic & ginger
de-seed the peppers (unless you like it SUPER HOT)
wash the lemongrass (if it's fresh) and finely chop both
ACTUAL COOKERY:
heat olive oil in pot
add shallots, onions, garlic, ginger, & the chili pepper (or cayenne powder) + lemon grass
sauté (stir on medium-high heat) for a few minutes until the things start to soften
add the broth and coconut milk
stir once more, keep an eye on the pot until it starts to boil
close the lid, and continue to let it simmer on low heat for about 20 more minutes
once the pumpkin us squishy, take the pot off the heat, and blend you soup until.. blended
SERVE (optionally adding..):
a bit of cilantro (or parsley, if you're into that)
a pinch of salt
roasted pumpkin seeds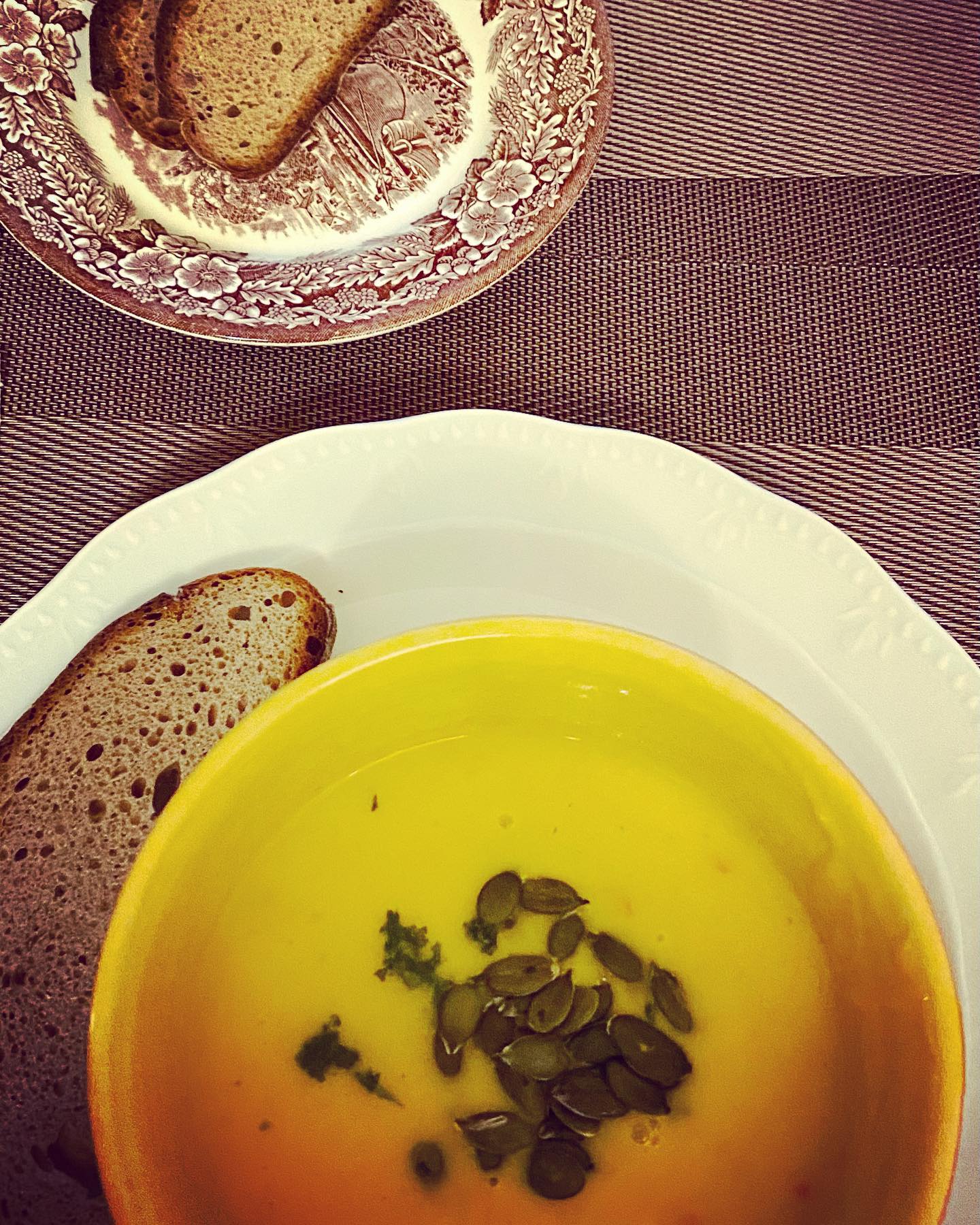 ENJOY!
Let me know if you try this (and how you like it!)
PS: GO HERE for the 'no pumpkin' variation – Epic Garlic Soup.