Updated!
This is part 11 of a series on Stacey Nemours  fantastic online
course package for dancers.
Check out the full series here:
Contents
Stacey's Dance! Flexibility Makeover Power Pack contains several courses.
I will be working with/posting about them in the following order:
Note: use code 'khalidadance' for 10% off all Stacey's courses, straps and course packages at flexibilitymakeover.com
Enjoy!
Course 11 – Flexibility makeover for Competitive Dancers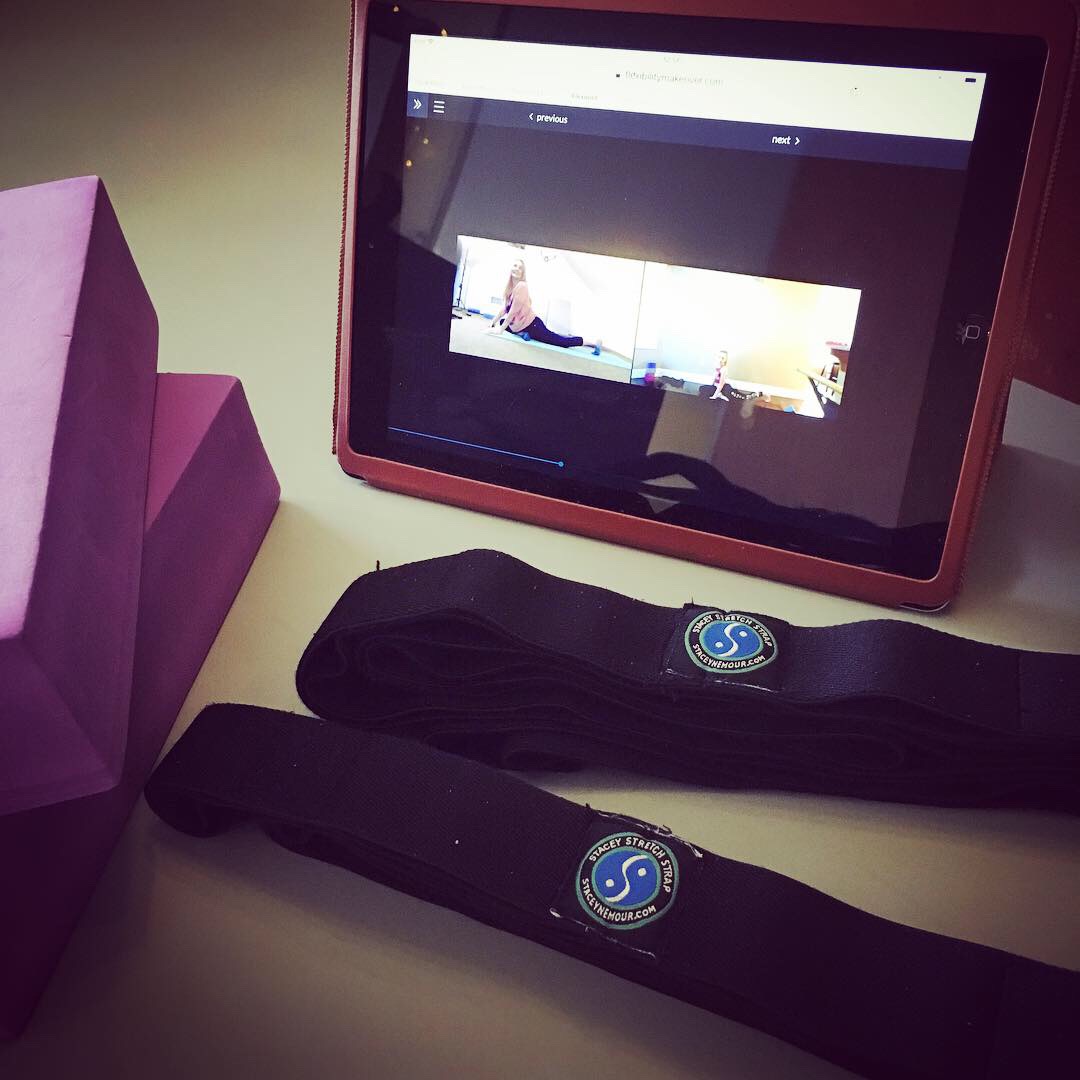 Duration:
Module 1: Preparation 1:24 – Tips for getting the highest results 1:55
Module 2: Before pictures 0:53 and results preview 2:57
Module 3: Main video (the final 10-12 minutes combine flexibility re-tests with oversplits practice,  backbends, extensions and 'floor needles') 1:14:30
Module 4: Bonus exercises to remedy shoulder pain 05:03
Level:
Beginner-plus to (very) Advanced
Props:
A set of yoga blocks
Some clear wall space
A sturdy table, counter or door handle
Optional, but highly recommended: a Stacey stretching Strap (or 2 straps if you want to intensify the exercises)
Water (it's a longer video, so it's great to have some hydration nearby)
Your body 🙂
Course type:
Recorded Skype Session
Featured student:
Kaylee  (dancer)
What I like about it:
This course (the main video) is quite long, which is great for deeper work.
Stacey takes her time to guide Kaylee through the stretches – repeating left and right – with a bit of extra time for the tighter side.
This is excellent for recalibrating flexibility imbalances – in other words, good for everyone 🙂
Another thing I absolutely love is Kaylee's spirit. You'll see what I mean when you try the course.
What it does for me:
I've noticed that the extra time for my/our tighter side feels very healing.
Especially the deeper work on opening the hips, hamstrings, hip flexors and quads.
Effects after a few sessions:
I'm noticing my hamstrings are feeling more 'even' on both sides, which is amazing.
For years my left side has been tighter, thus less comfortable to stretch.
The difference after just a few sessions is highly motivating.
My favourite exercise(s):
I especially loved:
The quad/hip flexor opening/strengthening exercise shown in the picture – feels so good!
Happy stretching!
If you have any questions about this specific course, or about the Dance! Flexibility Makeover pack in general, feel free to contact me via the comments below.
PS: If you have this course, too: Let me know what your favourite exercises are!
Next up: Part 12