This is part 12 of a series on Stacey Nemours  fantastic online flexibility course package for dancers.
Check out the full series here:
Contents
Stacey's Dance! Flexibility Makeover Power Pack contains several courses.
I will be working with/posting about them in the following order:
Note: use code 'khalidadance' for 10% off all Stacey's courses, straps and course packages at flexibilitymakeover.com
Enjoy!
Course 12 –  Secrets of Splits and Flexibility
This course is also part of Stacey's s Beginner's Ultimate Flexibility Makeover Guide. You can find my post series about it here.
Duration:
Module 1: Introduction 2:58
Module 2: Main video 36:39
Level:
Beginner to Intermediate/Advanced
Props:
Some clear wall space
A sturdy table, counter or door handle
A chair or step stool
A Stacey stretching Strap (or 2 straps if you want to intensify the exercises) or a towel, yoga strap
A set of ankle weights
Course type:
Digitalized instructional DVD
Instructor:
Stacey Nemour
What I like about it:
I like that this course is short and sweet, but can be lenghtened easily by simply pausing the video and repeating sides and/or taking some extra time to go deeper into a stretch wherever needed.
It contains a few slightly different, yet highly effective exercises which greatly complement the other courses in the bundle(s).
I love that Stacey works with ankle weights for some of the leg work in this video, as well as a strap for stretching (note: I now use my Stacey Strap instead of the yoga strap), a wall, and a chair – demonstrating different ways to spot yourself for different stretches in the video.
What it does for me:
Doing this session, no matter whether I follow the pace of the course or go a bit slower with 'switching/breathing breaks', it always leaves me feeling open, energized and ready to practice – it's quite deep work, but it still gives me a 'boost' afterwards.
Effects after a few sessions:
I'm noticing my leg kicks are getting a bit stronger, and my hamstrings open up more easily, which might very well be because of the ankle weight work (I've invested in a slightly heavier set :))
My favourite exercise(s):
I especially loved:
The ankle weights mini-workout for the quads, hamstrings and inner thighs – a fantastic conditioning set for active flexibility and controlled range of motion, which is useful for dancers as well as for martial artists!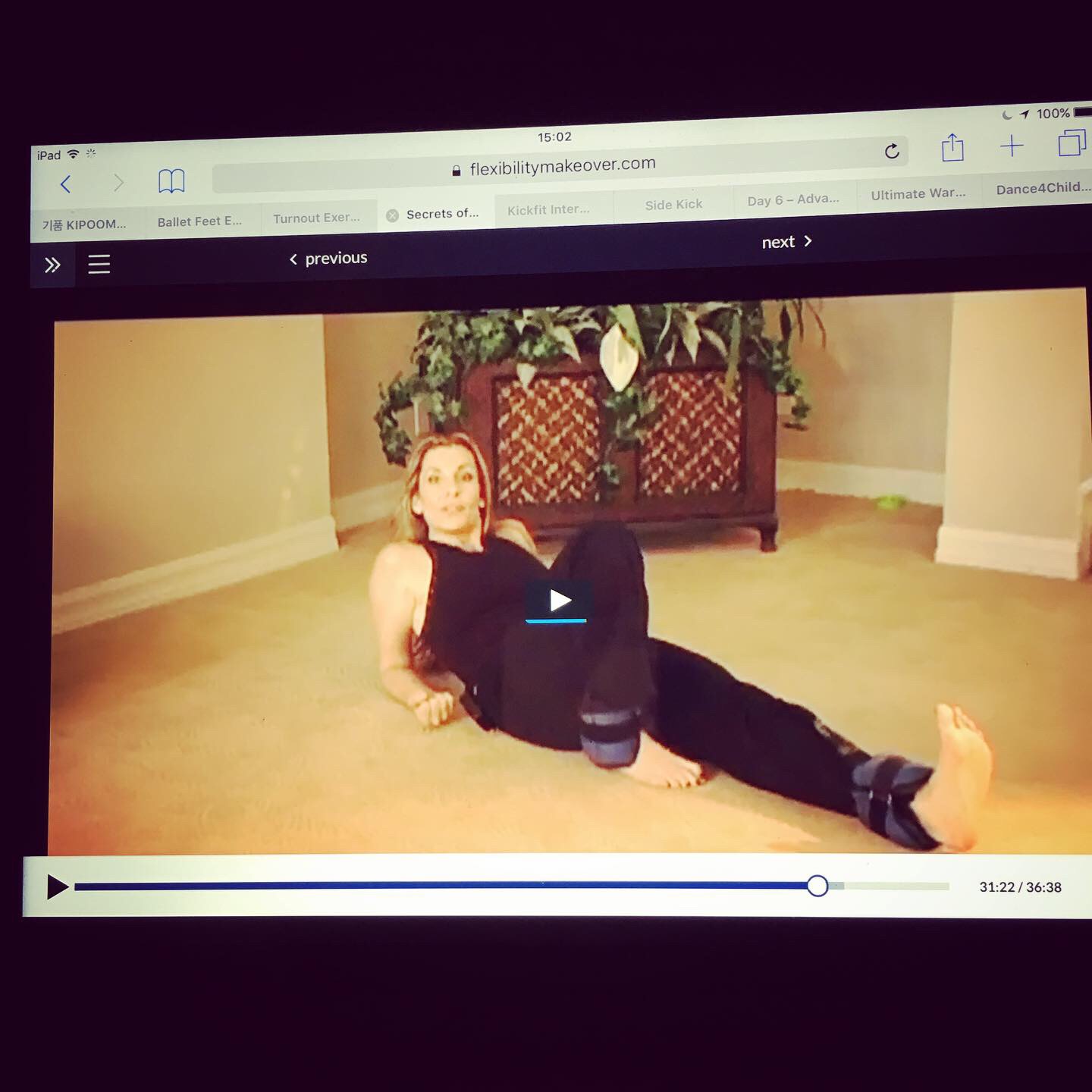 If you have any questions about this specific course, or about the Dance! Flexibility Makeover pack in general, feel free to contact me via the comments below.
Happy stretching!
Next up: Stacey Nemour Dance! Pack – Part 13
PS: If you have this course/DVD, too: Let me know what your favourite exercises are!