"Sometimes.. you need a break! Like with everything in life. And you come back stronger."
This is part 9 of a series on Stacey Nemours  fantastic online flexibility course
course package for dancers.
Check out the full series here:
Contents
Stacey's Dance! Flexibility Makeover Power Pack contains several courses.
I will be working with/posting about them in the following order:
Note: use code 'khalidadance' for 10% off all Stacey's courses, straps and course packages at flexibilitymakeover.com
Enjoy!
Course 9 – Flexibility Makeover – Rhythmic Gymnastics (part 1&2)
Duration:
Module 1: Before pictures – 6:22
Module 2: Session #1 Main video – 01:12:10 (the final 10 minutes combine flexibility re-tests with front and side splits, oversplits, backbends and extensions)
Module 3: Session #2 Main video – 1:03:03 (including flexibility re-test and extensions in the final 8-10 minutes)
Level:
Beginner-plus to Advanced (there are adaptations possible for most exercises)
Props (both sessions):
A set (or 2 sets) of yoga blocks
Some clear wall space
Optional, but highly recommended: a Stacey stretching Strap (or 2 straps if you want to intensify the exercises)
A step stool or a chair/low table
Course type:
Recorded Skype Session
Featured student:
Naomi (Rhythmic gymnast and Ballet dancer)
What I like about it:
This set of courses feels very gentle at first, but the stretches go pretty deep nonetheless, especially once Stacey moves into the extension mobility and strengthening exercises (session 1) and the hip opener variations (session 2)
I like how the intensity builds up gradually, and that I could feel the effects of the strenghtening exercises for a few days after doing the course for the first time.
This to me means they were exactly what I needed 🙂
This course set contains 2(!) full-length flexibility sessions, each with a slightly different focus and different exercise variations.
You'll get to see Naomi's progress 'live' during each video as she practices with Stacey, but also a remarkable improvement in Naomis mobility and strength between both videos.
I love Staceys positive and encouraging way of communicating with Naomi, as well as the great spirits both emanate throughout the program.
An honorary mention for:
The intro/outro music used in both videos (so groovy!)
The special shout-out to Jett the cat at the end of video #2 🙂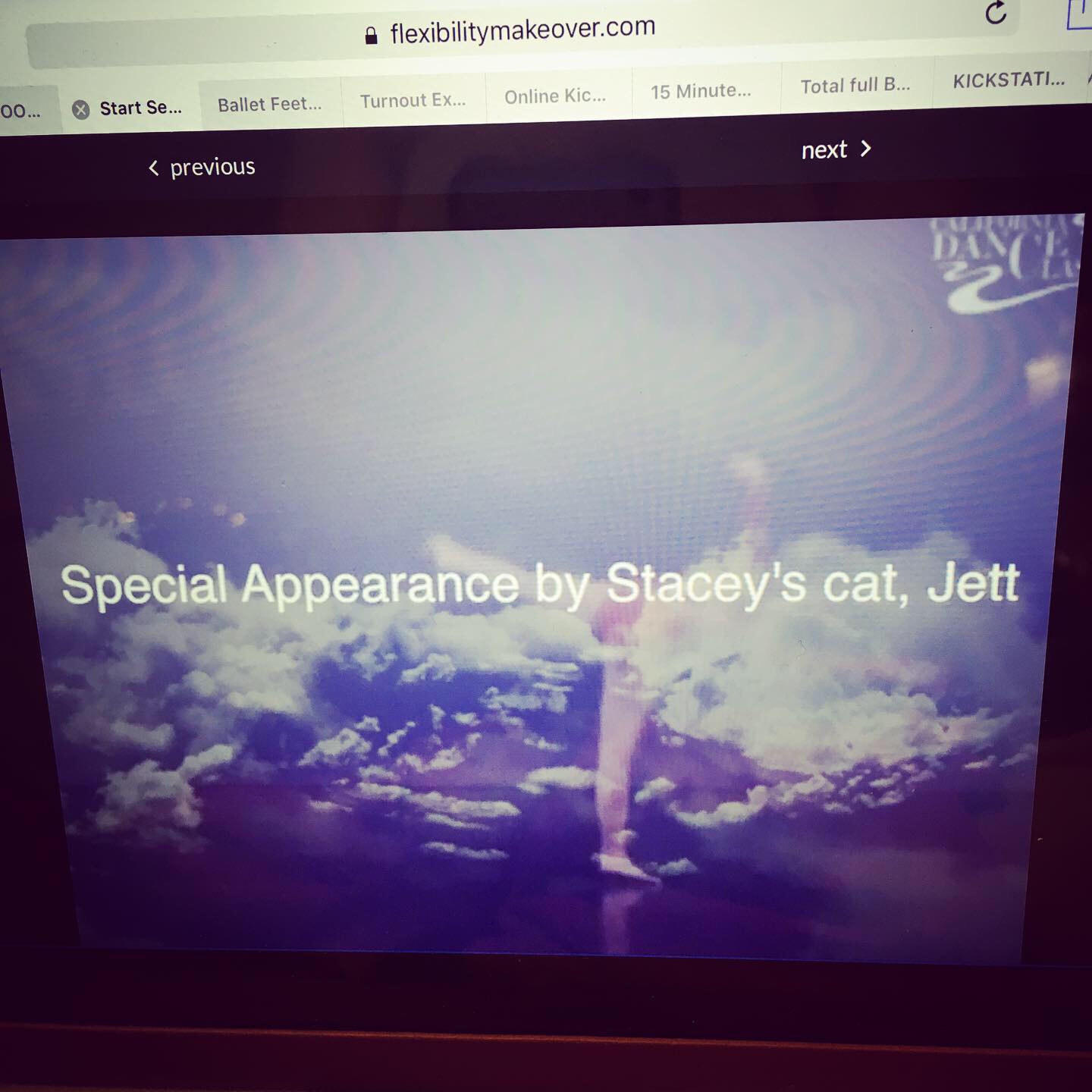 What it does for me:
This course was a perfect fit for what I am working on this month:
improving pointe and extension work for ballet (video 1)
releasing my hips for bellydance and taekwondo (video 2)
Effects after a few sessions:
After working with these videos for a few days my hips and legs are feeling more strong as well as flexible.
My standing leg balance has improved, especially on the left (my more challenging side).
I'm noticing my turnout is easier to hold, my pliés in 1st position have improved slightly, and my hip work in bellydance feels more relaxed and 'juicy' in practise.
I had a break from ballet and pointe work last week, so I'm excited to see what the effects will be  in class and rehearsals after the weekend.
My favourite exercise(s):
I especially loved:
The 'extension improver' exercise series (with a very clever way of using the Stacey Stretch Strap) in video 1
The super deep hip openers in video 2.
Happy stretching!
If you have any questions about this specific course, or about the Dance! Flexibility Makeover pack in general, feel free to contact me via the comments below.
If you have this course, too: Let me know what your favourite exercises are!
Next up: Part 10