'Throughout this whole program, it's about letting go'
This is part 7 of a series on Stacey Nemours  fantastic online
course package for dancers.
Check out the full series here:
Contents
Stacey's Dance! Flexibility Makeover Power Pack contains several courses.
I will be working with/posting about them in the following order:
Note: use code 'khalidadance' for 10% off all Stacey's courses, straps and course packages at flexibilitymakeover.com
Enjoy!
Course 7 – Extension into Infinity
Duration:
Module 1: introduction and before pictures – 4:32 minutes
Module 2: Main video – 39:40 (the final 3-4 minutes combine flexibility re-tests with splits, bridges/backbends and extensions usings Staceys stretching straps)
Level:
Intermediate to advanced
Props:
A set of yoga blocks (I use 2)
Some clear wall space
Optional, but highly recommended: a Stacey stretching Strap (or 2 straps if you want to intensify the exercises)
Course type:
Follow-along demonstration by Bobbie and voice over/coaching by Stacey.
Featured student:
Bobbie Allannah (dancer)
What I like about it:
I like that the main portion of this course is on the short side compared to the other courses of the package.
This means I can use it in combination with one of the longer courses on days when I have more time, or on it's own as a deep warmup before ballet or martial arts class.
I deeply enjoy the longer stretch videos of the course pack, but it's really nice to have a shorter option included as well.
Last but not least, I love Bobbie's beautiful foot lines and posture during the exercises, as well as the gorgepus balances she demonstrates with the strap at the end of the video – an inspiration!
What it does for me:
Working with this video helps me maintain and even gently progress(!) my flexibility – even on days where time is shorter.
Effects after a few sessions:
I notice that my front bend is deeper, and that my outer hips are starting to feel more 'alive' and relaxed after working with the video a few times.
My favourite exercise:
The 'crossed-leg' hamstring stretches about halfway the video were a revelation to me.
I could feel a release happening in new-to-me places, yet I was still able to control the depth of the stretch quite easily.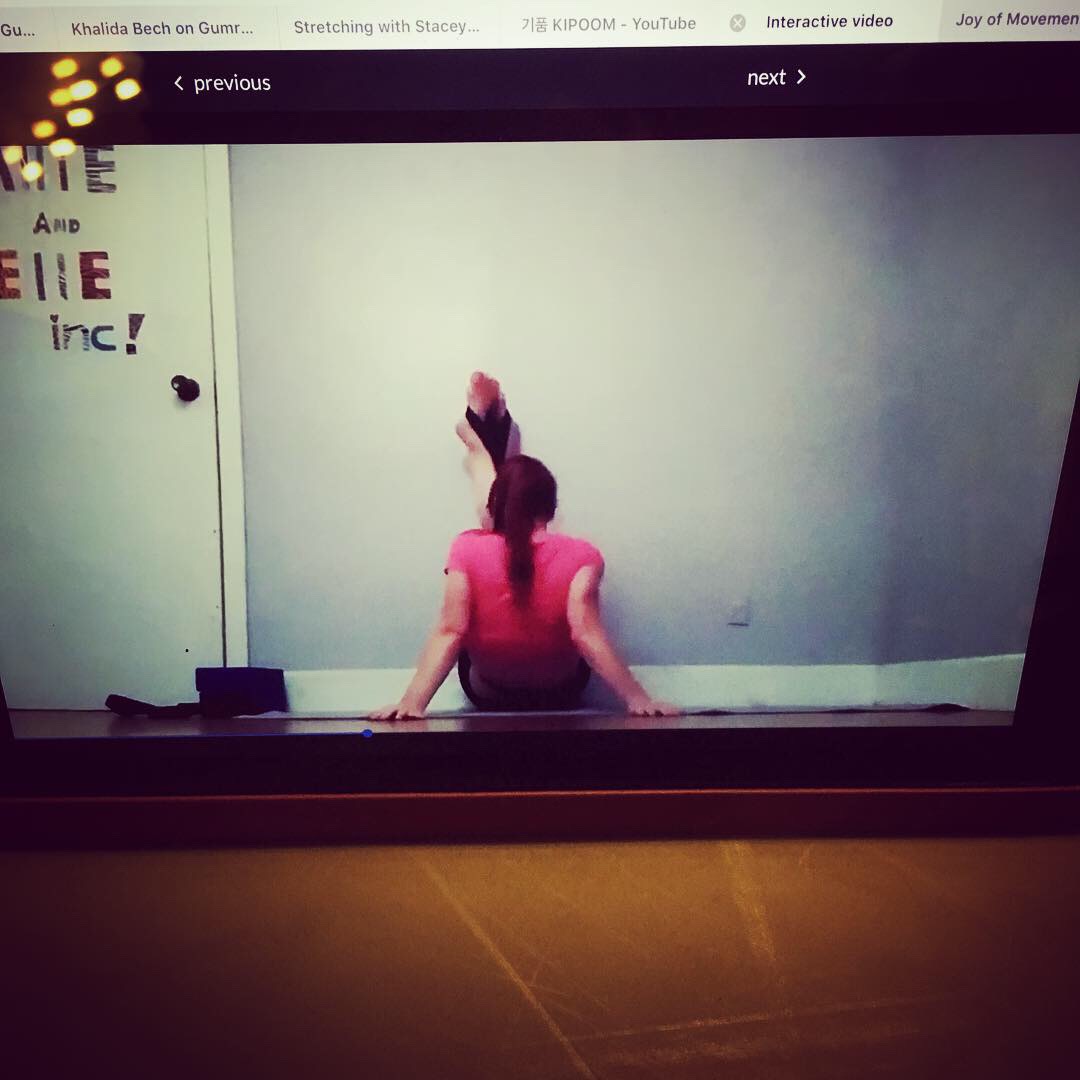 Happy stretching!
If you have any questions about this specific course, or about the Dance! Flexibility Makeover pack in general, feel free to contact me via the comments below.
If you have this course, too: Let me know what your favourite exercises are!
Next up: Part 8 – Flexibility Makeover with Top Female High Diver