This is part 4 of a series on Stacey Nemours  fantastic Beginner's Ultimate Flexibility Makeover Guide online course package.
Check out the full post series below:
Courses in the Beginner's Bundle

Stacey's Beginner's Ultimate Flexibility Makeover Guide contains several courses.
I will be working with/posting about them in the following order:
Note: use code 'khalidadance' for 10% off all Stacey's courses, posture support & stretching straps as well as course packages at www.flexibilitymakeover.com
Enjoy!
Course 4 – Claim your Posture back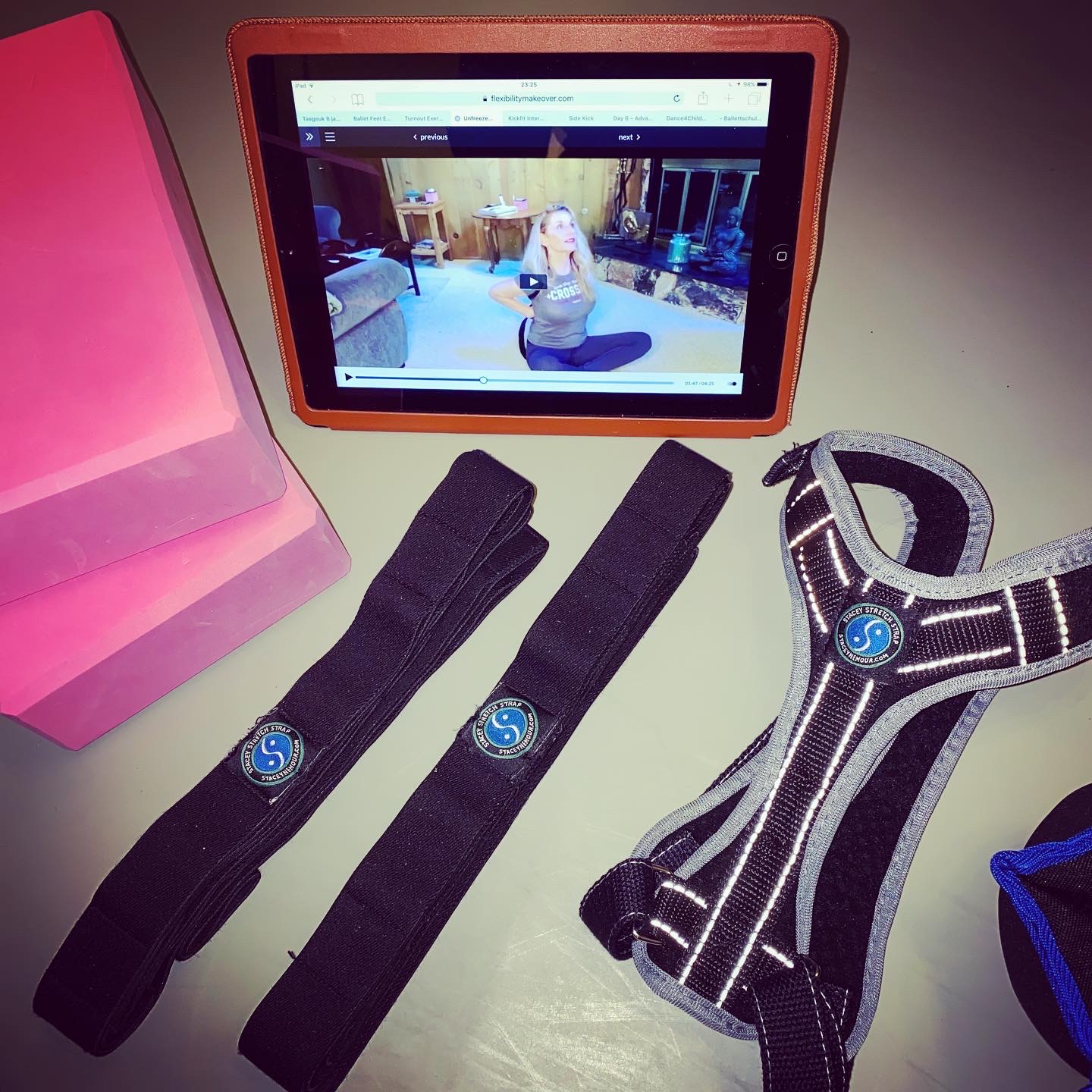 Duration:
Module 1:

Introduction and before pictures – 5:00

Module 2:

Warmup – 8:00

Module 3:

Doorway Stretches – 3:20

Module 4:

Stretching & Strenghtening – 6:54

Module 5:

Shoulders – 12:12

Module 6:

Upper Body – 4:16

Module 7:

Chair Stretches – 9:18

Module 8:

All About the Feet – 17:04
Level:
All levels
Props:
A chair/bench and a doorframe

A couple of

yoga blocks

(I use 2)

Some clear wall space

Optional: 

Stacey Stretching Strap

(or 2 straps for deeper support/resistance)
Optional (but recommended): a Stacey Posture Support Strap

A pair of (light) freeweights – you can also substitute with wrist/ankle weights or a Stacey stretching strap.
Course type:
Instructional Video
What I like about it:
I love that even though this course has exercises for opening up full body posture, Stacey spends a bit of extra attention and time to strengthening and releasing various regions of the upper body, which makes it a perfect companion to the other courses of the beginner (and dance!) bundle.
What it does for me:
It helps me to gently 'reset' my posture, and it feels great to do after traveling and/or doing longer bouts of computer work, and/or when I'm in between dance/martial arts classes. 
Effects after a few sessions:
My shoulder area is more relaxed, and my posture feels a bit 'lighter' after working with this course.
My favourite exercise:
I especially enjoy the 'unfreeze your shoulder' part, as I can feel the effects immediately.
The 'seated' leg exercises are really nice on my body, so I do those every now and then after (and at times even during!) computer work.
If you have any questions about this specific course, or about the Beginners Ultimate Flexibility Makeover Guide package, feel free to contact me via the comments below.
Happy stretching!
Note: use code 'khalidadance' for 10% off all Stacey's courses, posture support & stretching straps as well as course packages at www.flexibilitymakeover.com
Next
up
: