This is part 5 of a series on Stacey Nemours  fantastic Beginner's Ultimate Flexibility Makeover Guide online course package.
Check out the full post series below:
Courses in the Beginner's Bundle

Stacey's Beginner's Ultimate Flexibility Makeover Guide contains several courses.
I will be working with/posting about them in the following order:
Note: use code 'khalidadance' for 10% off all Stacey's courses, posture support & stretching straps as well as course packages at www.flexibilitymakeover.com
Enjoy!
Course 5 – Easing Pregnancy Aches and Pains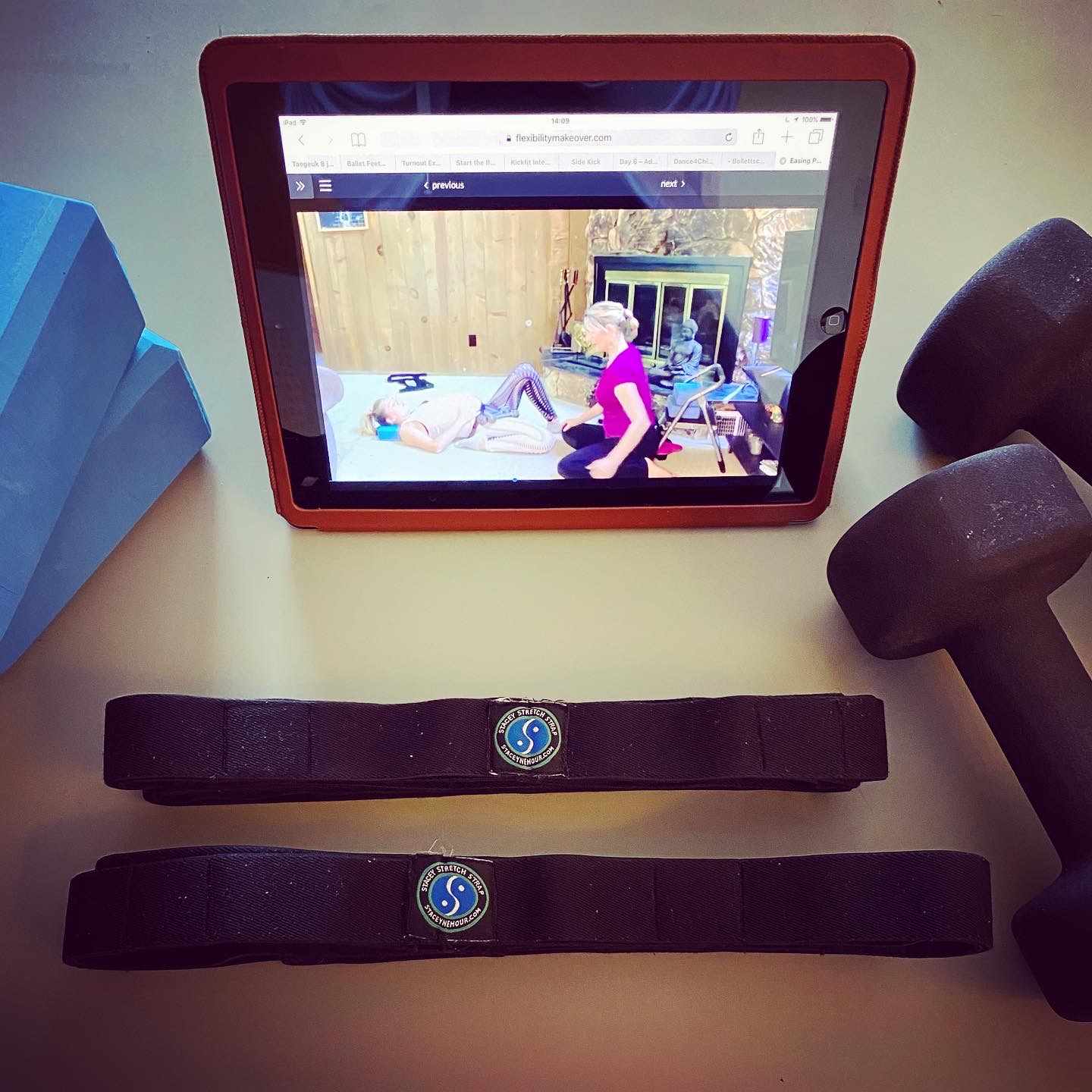 Duration:
Module 1:

Introduction and before pictures – 4:43

Module 2: Main Session – including after pictures and short closing meditation

 – 1:08:00
Level:
All levels
Props:
A chair/bench and a doorframe

A couple of

yoga blocks

(I use 2)

Some clear wall space

Optional: 

Stacey Stretching Strap

(or 2 straps for deeper support/resistance)
Optional (but recommended): a Stacey Posture Support Strap

Optional: A pair of (light) freeweights – you can also substitute with a set of wrist or ankle weights or a Stacey stretching strap.
Course type:
Recorded live coaching session at Stacey Nemour's home
Featured Student:
Stephanie McIntosch (Actress/Singer)

What I like about it:
I love that even though this course has exercises for opening up full body posture, Stacey spends a bit of extra attention and time to strengthening and releasing various regions of the upper body, which makes it a perfect companion to the other courses of the beginner (and dance!) bundle.
What it does for me:
I tried this session the day after a pretty intense sword workshop. It helped soften up my upper body (it can get pretty tight across the front from sword practice) much more thoroughly than I expected.
It smoothed out my usual post-sword class shoulder soreness completely, and the accompanying deep hip, leg and back stretches felt luxuriously relaxing and restorative.

This session felt like a mix of posture work and a deep tissue massage, just what my body needed.
Funny thing is, at first I wasn't really sure whether this class would be for me – because of the pregnancy bit in the title 🙂 but I was happily surprised.
Apparently it works for soothing all types of aches and pains – it's universal!
Effects after a few sessions:
My upper body is feeling more 'open' and relaxed, my lower back/sides and shoulders are softer, and my quads and hamstrings are feeling especially thankful for the extra attention.
My favourite exercise:
The weighted variation of the quad stretch is fantastic – Stacey builds up to this gradually, and the weights really help deepen the release.

Also, not an exercise, but it's certainly worth a mention: Stacey's beautiful cat pays a visit halfway through the course and totally steals the show (and my heart) – I could keep rewatching it – this video is for the cat lovers amongst us <3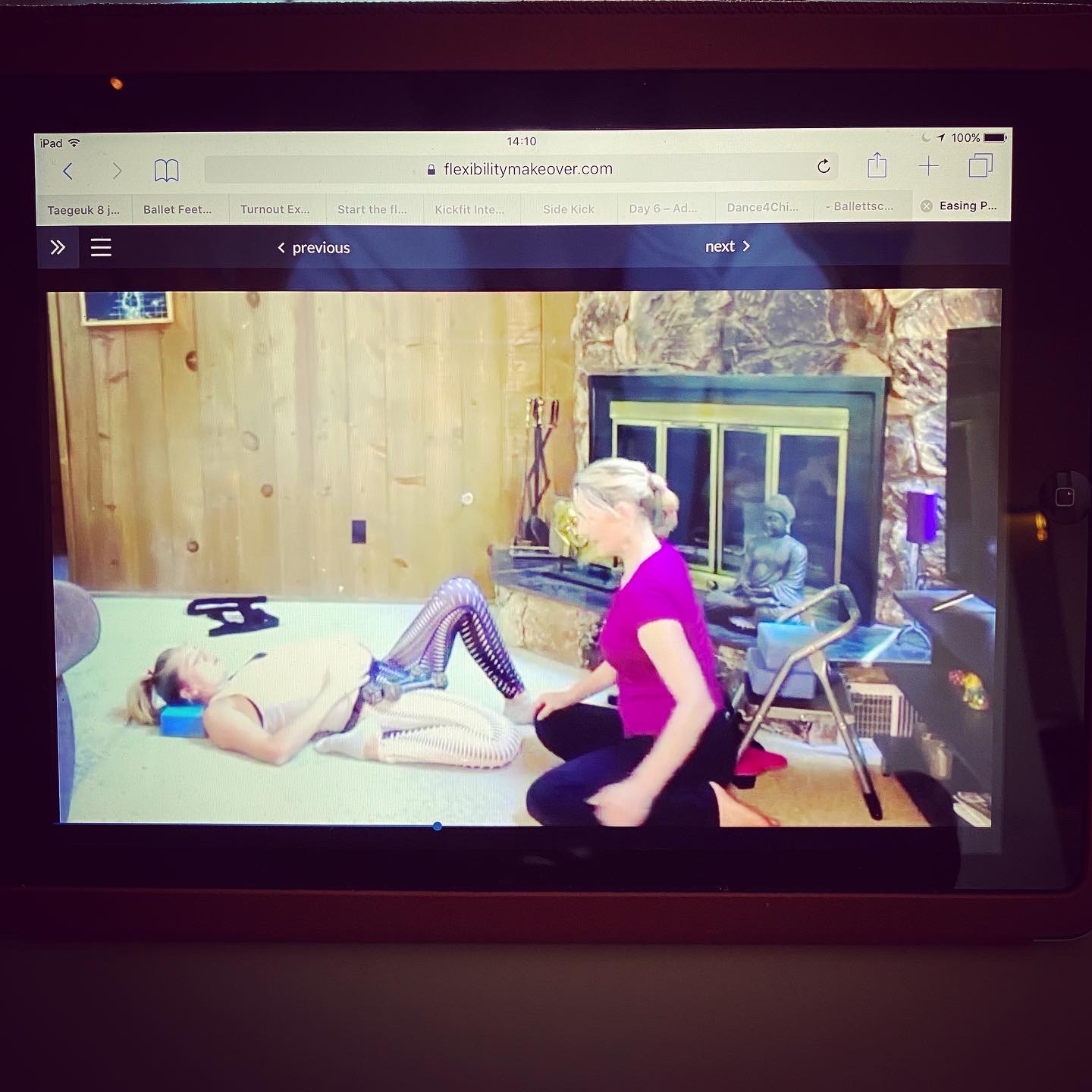 Also: I love Stacey's outfit (and amazing earrings) in this session!
If you have any questions about this course, or about the Beginners Ultimate Flexibility Makeover Guide package, feel free to contact me via the comments below.
Happy stretching!
Note: use code 'khalidadance' for 10% off all Stacey's courses, posture support & stretching straps as well as course packages at www.flexibilitymakeover.com
Next
up
: