This is part one of a series of 13(!) posts about my experiences in working with the Dance! Flexibility Makeover Power Pack online course series by the fantastic Stacey Nemour.
Enjoy!
Note: If you are interested in trying Stacey's online flexibility system – I highly recommend it!  – use code 'D4C' for 10% off all courses, course bundles and stretching/posture straps at flexibilitymakeover.com
Full Dance! Flexibility Makeover Power Pack blog post Series:
Now on to the Courses
The Dance! Flexibility Makeover Power Pack currently contains 13 different online sessions, all taught by Stacey.
Most of the classes are recorded Skype sessions (which I like, it feels very natural/organic, as if she is right there with you, coaching you through the exercises) and some courses (like the Extensions for days) are filmed with students of different flexibility levels – Stacey demonstrates the exercises, and offers corrections/adaptations on the spot.
All of the courses follow Stacey's stretching system (ie a certain order/progression of exercises and muscle groups to work with/ release), and certain exercises are repeated across the classes, as they are deeply effective no matter what the student's level/background is, so there is a bit of overlap here and there.
Each course features different levels, adaptations, variations, and insights/corrections/tips per exercise, and every course can be worked with on it's own (they each have a warmup), which means – to me – that there is incredible added value in having the full course package on hand.
The slight tweaks/different approaches can lead to big flexibility breakthroughs, and knowing more exercise adaptations allows me to mix and match the stretches and variations very specifically to my needs – which can differ from day to day, and week to week.
One thing I like very much about Stacey – and about her courses in general – is that she is simply the real deal.
No fancy recording studios or special camera effects are needed. She works intuitively yet structured, and the exercises in the courses just plain work(!)
The editing of the videos is kept very simple – making it easier to just 'be' when working with the courses, and allowing me to focus on what's really important – the movements and the release.
Why I feel Staceys courses are for everyone
Stacey is very encouraging, gentle, and clear in her directions, and her system is safe, yet effective. She's all about working with your body's natural abilities, your breath, your posture, and a safe progression, plus a smart use of simple props (or a wall/your hands) where needed.
Her courses are the only ones that have actually worked for me so far, and I have tried many different ones.
What's included in the Dance! pack
The following courses are currently included in the Dance! Flexibility Makeover Power Pack – this is the order I have been working with/posting about them:
Course 1 – Flexibility Makeover for Dancers held back by tightness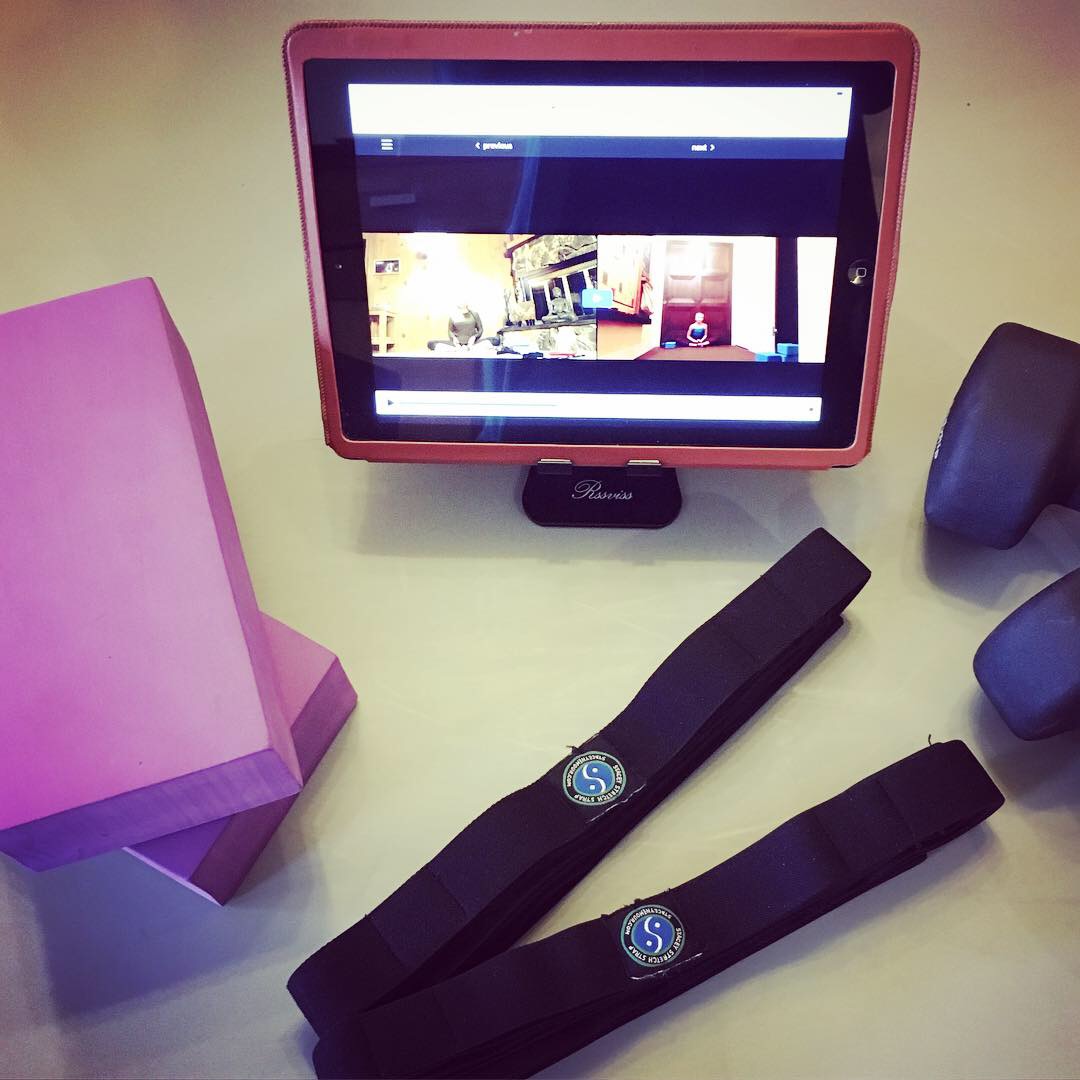 This course is also part of Stacey's s Beginner's Ultimate Flexibility Makeover Guide. You can find my post series about it here.
Duration:
before pictures (module 1): 6 minutes
main portion (module 2): 54 minutes
Level:
All levels
Props:
A couple of yoga blocks (I use 2)
Some clear wall space
Optionally: a stretching strap (or 2!) and a pair of light dumbbells (you can also use wrist/ankle weights)
Course type:
Recorded skype session
Featured student:
Ella (dancer)
What I like about it:
It is a recorded Skype session featuring a 10(!) year old dance student. During the course it feels like Stacey's gentle wording, enthousiastic encouragement and tactful feedback are speaking directly to my 'inner dancer', who is about 6 🙂
Flexibility work, especially on days I am feeling less limber, can at times put me in a bit of a vulnerable place.
I can be hard on myself (working on it!) when I am doing things that do not come easy, and the tone of this course somehow magically puts me at ease before I start feeling frustrated.
The easy pace of the course allows time for transitioning between exercises, and Staceys words of encouragement really do add to the feeling of safety – which makes a huge difference in flexibility work.
What it does for me:
It helps to keep me on track with my flexibility practise, even on days where I am feeling less motivated, and/or when I am still a bit sore from working out or intense dance/martial arts classes the day before.
Effects after a few sessions:
Got closer to front splits, felt more relaxed in TaeKwonDo.
My favourite exercise:
There are a few that I like, but my personal favourite is the weighted butterfly variation. It's hands-free, relaxing, yet effective!
If you have any questions about this course, or about the Dance! course pack in general, let me know!
If you have it too: how do you like it? What does it do for you? 🙂
Next up: Part 2 – Extension for days!