I'll be writing a new blog post series soon on my experiences with Stacey Nemours new Martial Arts Power System online flexibility course package.
I will be working with this online video series from home, as well as posting updates on my progress every now and then.
Part of the classes I'll be writing about have overlap with the 2 course packages I have already blogged about in the past, so if you want to read ahead about my experiences with those, check out the links below.
Existing Blog post series:
Note: Even though I dance, and have worked with both series already, I have been practicing mostly with Stacey's beginner's course lately, as we haven't been able to get outside the home much, and they are a great way to de-stress.
Other flexibility related posts:
Also, I have created a page listing free stretching videos that Stacey has released in the past. These are great for a quick stretch and release, and they will give you an idea of Stacey's gentle but effective teaching style – They are taught from her home, which I adore.
I've also written before about how we can create a sense of safety which will help increase the effectivity of all flexibility work. You can find it here: Stretching the senses.
Full disclosure:
Stacey has generously allowed me to be an affiliate for her program, which means that if you use my discount code 'khalidadance', you will get 10% off all purchases (on courses as well as stretching props) on www.flexibilitymakeover.com – and I will, next to that, get a percentage of the sales that are created with this code.
I've started blogging about Stacey's courses before this offer was made to me though, and I happily would continue to do so without it as well.
In short, I find Stacey to be an incredibly knowledgeable, gentle and kind teacher, whose work I am very happy exists in the world, so I truly want to try and share it with as many people as I can.
On getting into the splits:
As some of you know, this blogging adventure started after I purchased Stacey's first online courses a few years ago, and they, quite unexpectedly to me, helped me get into my splits for the first time in my life at 37,  completely pain-free!
Which, to me, still feels like a small – or rather, fairly big! – miracle.
That being said, I still want to work on improving my flexibility, not just for the splits, but for my overall wellbeing and to have as much freedom of movement as I can, in life as well as in dance and martial arts.
On Motivation and Health:
I have noticed that over time, my 'base' flexibility has stabilized, and if I cooldown regularly using the stretches I've learned, I have less and less achings (which used to occur after a heavy class), even during times when I am not working with the courses very regularly.
At times when I do work with the courses diligently – even for just a few days in a row – I immediately notice a big difference.
To remind myself that this truly works, and to motivate myself to keep investing in my body's health and flexibility – it can be very easy to forget – I have been (and will be) posting progress pictures and before/afters every now and then.
However, even though progress reports and goals can be great for motivation, it helps, for me, to at the same time see flexibility work as something I do for health – something nice and good for my body and mind.
And to keep breathing.
This helps me avoid putting myself under internal pressure, which would only lead to unneccesary frustration.
So for me these days, it's all about making flexibility work a healthy habit.
That being said, read on to see my previous posts on Stacey's courses 🙂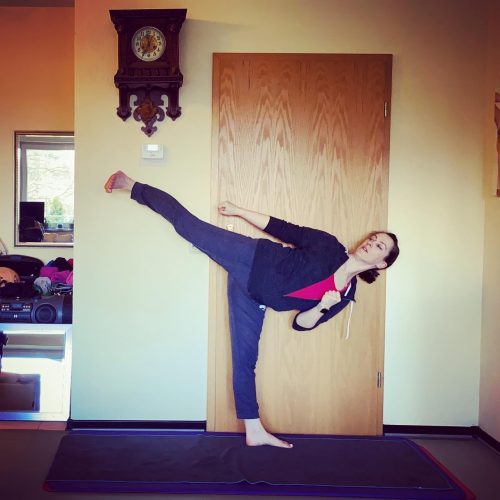 Let me know if you are working with them, too!
Stacey's Beginner Flexibility Course
Check out the full existing blog post series here:
Courses in the Beginner's Bundle

Stacey's Beginner's Ultimate Flexibility Makeover Guide package contains the following online courses:
Stacey's Dance! Power Pack Flexibility Course
Check out the full blog post series here:
Courses in the Dance! Power Pack Bundle:
Stacey's Dance! Flexibility Makeover Power Pack package contains the following online courses:
Follow Stacey's updates online
Check out Stacey's pages below for mini tutorials, testimonials and other course updates.
You can follow her at: